Hello, Lovlies!
Back in my Loli days, I followed a blog called
Princessly Living
by Lady Kristen, and she had a monthly post I always admired: she always set a goal for each month of the year.
Sometimes she'd update on it, sometimes she'd choose the same goal a few months in a row as she made progress on it.
Anyroad, this appeals to me. It makes goals bite size, achievable, and easy to start - which is a big problem with goals, anyway - if you don't start 'em, you'll never achieve, grow or learn!
MARCH CHALLENGE: Becoming Okay with Being Alone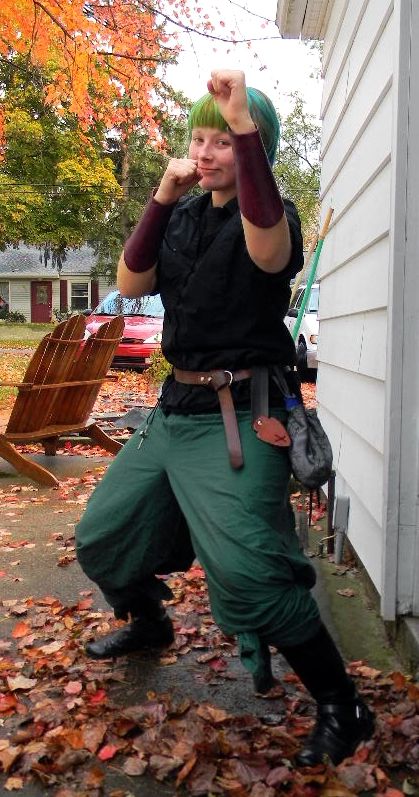 This was supposed to be a picture about "fighting to be okay with being alone"
but instead enjoy some back story:
I've been told several times that I brighten up when I start fighting.
During a bland renaissance faire, an older trainer came up to me at the end of the day and said,
"You know, the only time you really smiled today was while you were sparring.
You were beaming brighter than any other time today."
Outfit: Halloween costume/Ren garb 2011.
Stance style: Tae Park Tae Kwon Do.
I've written about
being alone before
(concidentally, about this time last year!), and I've made considerable progress since I wrote that post, including my high school years I mentioned in that post.
What I'm looking for is to learn to be okay with being by myself.
Sounds simple, doesn't it?
Let's decipher why it's not [for me]:
- Distraction keeps me from facing the real issues: Me, myself, & my darn busy brain
.
When I was a weaker person, I depended on other people to give me inner peace - in other words, keeping my attention distracted and off the actual problems at hand.
I remember this vividly with my high school boyfriend, as well as my high school friends - I was never, ever alone. I didn't want to be, and I was the popular kid in my crowd, so I never had to be. If I said, "Let's go skinny dipping" at 3 a.m. in the morning, my friend group would be skinny dipping by 3:25 a.m. There was many a summer night were I'd spend half my night biking to and from a friend's or flame's house to see them, and then be annoyed with them as soon as I was there; and spend the rest of the night not talking to them but being physically near them.
I went through an emotional & mental rollercoaster in my middle school/high school years - I actually refer to that time in life as my "mid life crisis." I used my partner's and friends as objects I knew were real to ground me. Now, was every trip like this? No, but in my book, even once is bad practice.
I don't do that anymore; if I feel like I'm going to hang with someone only for the physical presence, I'll decline the invite. I really want to be okay with myself.
- I'm a social butterfly . . .
. . . so say my friends, family, and random people I meet.
I like to talk, I enjoy picking people's brains, figuring out why they are who they are, and I'm extremely curious.
I genuinely like to be around people; I feel good around them, and I like to think I bring out the better side of people. Sometimes the line between "I want to hang out, pal around, and have fun!" and "I'm psychotic right now, and being around you is a silent way of making me feel like I'm not going to lose control . . . without feeling weak and asking you for help."
- I don't trust myself.
I have a shite ton of trust issues, and with time they've spilled into my mental stability and security.
Okay, so you know
what is causing what - now what are you going to work on?
+ Trusting myself. Trusting my thoughts, my emotions, my feelings, ideas - myself. The whole she-bang.
The other two issues are more or less resolved - I acknowledged what was going on, and have gone about fixing it. I spend time with people when I genuinely want to, not when I need someone to ground me - it's unwise to rely on someone else to fix me, anyway - what if they're not there one day? Why waste all the time when I really just need some quiet thinking time?
Think about it.
So, my lovely readers, do you set goals for yourself through out the year? If so, what are your goals and challenges?
Remember: The comments are open to all, even those without Blogger accounts! ;D